In 2013, London was named the most popular travel destination in the world with a record breaking 16.8 million visitors to the city. The list of reasons for traveling to London are endless, thus holidaymakers continue to fly to the city regardless of its reputation of being the world's most expensive city. And now, exploring London has just gotten even more exciting with the wide selection of cycling tours that the city have begun to offer.
Cycling along the River Thames or via many of London's other interesting paths weren't necessarily the most common choice to see the inner workings of London until recently. Traveling via an open-top double decker bus were often typically seen in travel brochures, as the stereotypical mode of transport for sightseers around London. However, recently, the tourism industry has seen a huge spike in cycling holidays with over 26 million cycling trips undertaken each year.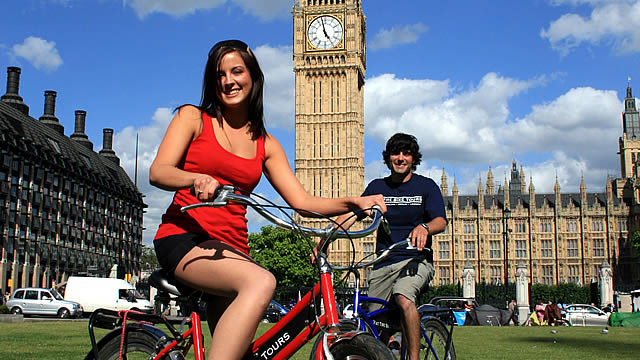 The sudden boost in cycling tourism is perhaps the result of the London Olympics. Since the summer of 2012, bicycle sales and participation in cycling events have increased tremendously. This has led to more tours along the National Cycle Paths across the country.
Increased participation and sales also prompted businesses to implement the Cycle to Work scheme, thus increasing the number of cycling commuters due to tax breaks. Retailers that accept the Cyclescheme Certificate have been strategically placed in malls and other areas where a wide selection of businesses operate such as in airports, to encourage green travel. C and C Cycles is conveniently located in the middle of Redhill Town Centre, just outside of London, and Evans Cycles has a branch just off of Gatwick.
The surge in cycling commuters made it imperative for large business hubs to supply bike maintenance and improve their parking facilities. Heathrow is another airport that has adopted the Cycle to Work scheme and even has a cycle centre for staff, a place that offers free maintenance and an assortment of services. According to Parking4Less, Heathrow airport has provided free cycle parking areas, giving yet another incentive for the workforce to cycle to work.
With the comeback of the bicycle, it seems to be a more than appropriate way to discover the historical and cultural richness that the capital exudes. With a host of cycling tour operators in London, there are various kinds of trips you can embark on. A mix between London's main highlights and its hidden attractions, you'll get the best of both worlds, seeing London in the eyes of a tourist as well as in the perspective of a local. Choose between a self-guided tour or a route that the entire family will appreciate, a more scenic and relaxing trip or a more challenging path for advanced riders. Either way, you'll certainly get to Explore London on an intimate level.
For more information on London's multitude of cycle routes and tours, Fat Tire Bike Tours and The Carter Company are good places to start.